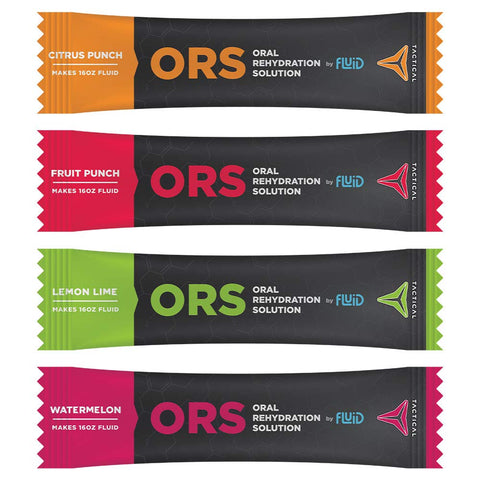 Tactical ORS (Oral Rehydration Solution)
Made in USA - Fluid Tactical ORS is scientifically formulated for faster relief from dehydration caused by extreme workouts, travel, hangovers, vomiting, diarrhea, heat exhaustion.


Over 3x More Electrolytes - Get the electrolytes you need for faster recovery than water or sport drinks. Each packet contains 816mg Sodium, 370mg Potassium, 25% DV of Vitamin C, 25% DV of Zinc.


Easy to Use - Each packet is designed to be mixed with 16oz of water, stir or shake until dissolved. Travel ready single serving packets make it easy to keep them on hand when you need them most.


Informed Sport Certified - Each batch is tested for over 285 banned substances, so you can rest easy knowing what you are drinking is clean. Athletes at the highest levels of competition use Fluid Tactical ORS for the electrolyte replenishment they need. (Certificate of Analysis available here.)



Gluten & Dairy Free - All ingredients are gluten & dairy free, and vegan friendly. Also made without any artificial colors, flavors, or preservatives. Sweetened with cane sugar and a dash of sucralose.
Hydration solved
I have been focusing on longer distance races in the last few years. These ORS packets are a game changer. Getting enough electrolytes in the body on longer days is essential to a great performance. ORS packets keep my body in the proper electrolyte balance to properly perform for several hours. Thanks Fluid Nutrition team for continually improving my ability to keep going.
ORS
So stoked Fluid dropped this line of hydration for extreme conditions! I've been using the ORS for endurance/ultra endurance cycling and it works wonders to prevent cramps and keep the legs spinning for hours in all sorts of weather. It is exactly what I'm craving, I no longer feel the need to stop for V8 and goldfish
Perfect Solution
Amazingly great with the sodium content it performed incredibly well in heat and humidity for a long distance running event.
Endurance excellence
If you are a heavy sweater or an ultra endurance athlete this is for you.
Tastes Better Than Other Oral Rehydration Solutions
I am a registered dietitian who works with military service members. Electrolytes are super important for this population, but I always feel bad recommending ORSs that I won't even drink myself. I was excited to try out Tactical ORS. I think it tastes better than other ORSs you find on the market and it's something I feel good about recommending