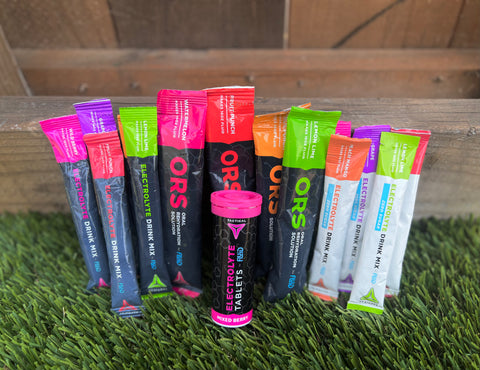 Tactical Sampler Pack
Electrolyte Tablets Flavor
$ 25.00
$ 32.00
you save $ 7.00
Our "Tactical Sampler Pack" includes: 
One of each flavor of Electrolyte Drink Mix sticks (5)
One of each zero-sugar flavor of Electrolyte Drink Mix sticks (5)
One of each flavor of ORS (Oral Rehydration Solution) sticks (4)
One tube of tablets (your choice of flavor)
Great product
They taste great and are easy to drink when you feel/are dehydrated. Great at preventing dehydration as well! Will be buying when I run out!
Love it!!
Amazing product. Really works well in the heat.
99° and hydration isn't a problem
ORS salted watermelon for the win just add ice water. Training in canyon heat hasn't been an issue. I love tactical for training at altitude. The drop ins with the little bit of fizz are great at work in my reusable water bottle to stay hydrated between seeing patients.
Super hydrating
Tasty and really helps me stay focused and energized during and after a hard workout.
Clean, hydrating and GI friendly
The Fluid products are high quality options when it comes to support long endurance efforts. From mountain biking and running to pre surfing, I have found these products to sit really well, taste great and keep me going for the long haul.