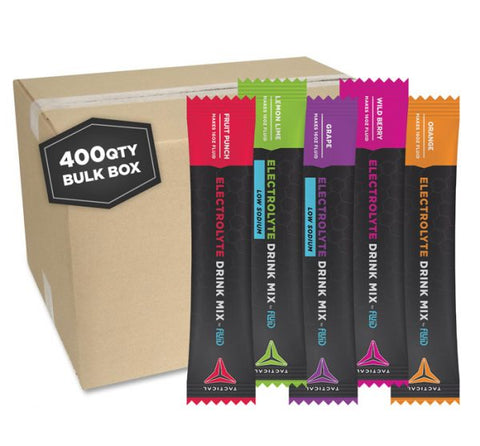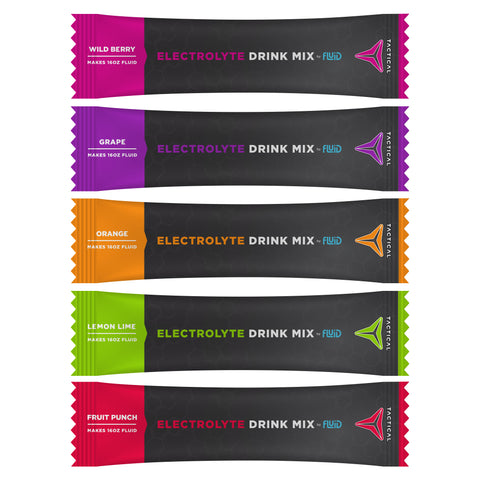 Tactical Electrolyte Drink Mix
Our Tactical Electrolyte Drink Mix helps you hydrate better than anything else. It replaces minerals that are lost in sweat, without excess sugar or any added junk. It is a must have for anyone working hard under heat stress. Originally created for firefighters in the toughest conditions, it has become a staple for many athletes and workers in high heat construction, on solar farms, in oil fields, and many more brutal conditions. Designed by our team of professionals from real scientific data, Tactical is a no-nonsense way of preventing cramps and fighting dehydration during long, hot days on the job.
This formula has been shown repeatedly to reduce muscle cramping and increase liquid consumption, resulting in better work performance and fewer dehydration issues in the field.
Replaces vital electrolytes at the same ratios they are lost in sweat.
More than 300mg of sodium per packet.
Minimal sugar in ideal ratios for easy digestion (4 grams total from both cane sugar and dextrose per 16oz).
Balance of minerals for maximum fluid absorption and prevention of muscle cramps.
Natural colors and flavors.
Don't leave home without it!
Mile 35 of 50 of a hot, dusty gravel fondo. The bike computer read 108.8 degrees F. Shade was almost non-existent, lycra shorts felt like lava. And the electrolyte beverage on course contained an ingredient that wreaks havoc on my gut. Thank goodness I had Fluid Tactical along for the ride! The packets were so small that I carried a few extra, and despite being suceptible to heat illness, I finished strong and even snagged myself a podium! Cannot recommend this enough, especially if like me, you are built for cooler temps!
PERFECT FOR RESOLVING HEAT RELATED MUSCLE CRAMPS
Fluid Tactical is my first choice in the prevention and treatment of heat induced muscle cramps. I have seen this product rapidly resolve muscle cramps in just one 16oz drink mix. One of my clients was complaining of muscle cramps waking him in the middle of the night. With just one packet of Fluid Tactical and 16oz of water, this worker felt relief within 20 minutes while working in 108 degree F temperature environment. I had another worker on a California project so locked up he was in the fetal position. We tried squincher and gatorade with no success. As a last resort, we tried a new product (Fluid) and his muscle cramps resolved within 10-15 minutes. I am fully satisfied with the Fluid Tactical hydration system.